The AEL project was established in Spring 2006 after a pilot project -designed for my own pupils in 1998- came to its conclusion.
Two purposes have been at the core of Active English Learning from its beginning:
The educational purpose was to provide my teenager pupils a language experience in the country where English is the live means of communications.
A "hands-on" activity-based programme was designed to help participants learn through arts, crafts, games, excursions and social, cultural events as a complement to their studies at school.
English tuition were almost focused on the understanding of the daily experience and on the use of English for social relations and communications.
It became immediately clear that their experience abroad had a much deeper impact than learning some more English or have fun during the summer holiday.
There was the quality of "exploring" a new world, that I dare liken to Ulysses journey.
Enthusiasm and determination to improve English were two delightful "side-effects" of our initial pilot project!
With their positive response the young learners showed the direction that AEL needed to develop, that is what I synthesised in the threefold motto:

learning by doing,
learning with joy,
learning from real life.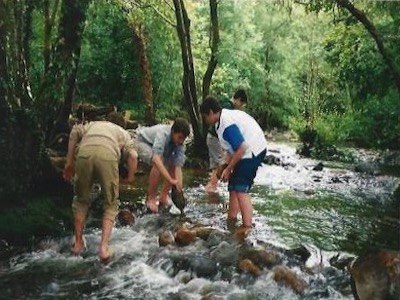 We aim to help our student develop some significant qualities through short, intense programmes.
Nourishing Creativity
Our arts and crafts workshops fire individual creativity and imagination
Boosting self-confidence
We care that any successful achievement may feed self-confidence

Encouraging Team work & Cooperative learning
Through activities and lessons our students work together and learn from teachers and from one another
Rising social awareness & personal responsibility
Working and learning together sharpens social awareness and strengthens personal responsibility

Improving English & Communication Skills
Cognitive achievements are fundamental for a complete personal development, so we take care that each students achieves good learning outcomes
I am the founder and manager of the AEL project, committed to take care of the wellbeing of our young learners as well as their good language development.